Description
12'6″ CARBON COMP
FAST & STIFF
The 10 year Anniversary CARBON COMP features a race-oriented design and look for paddlers that want to go fast and straight. The displacement hull achieves this by being designed with a negative nose angle and a v-shaped bow. This not only helps the board track it also allows the paddler to cut through choppy water with ease.
Since 3k carbon is known for its light weight and stiffness, we decided to go for most advanced construction for our 10 year anniversary. We sandwiched a full top layer of 3K Carbon with a Formula 1 cosmetic that only weighs in at approximately 27lbs, that's crazy light board at 12'6".
Our custom EPS foam core and the Full 3K Carbon Epoxy Sandwich Vacuum Construction (ESVC), the CARBON COMP is not only light but super stiff.
Paddlers know that stiff boards are fast because of the reduced flex in the board allowing for superior glide qualities. At 30″ wide and with increased volume in the standing zone, we have designed the CARBON COMP so the paddler can stand further up on the deck reducing paddle strikes to the sides of the board.
The 10 year Anniversary CARBON COMP is a very fast board in all wind directions and a proven performer on the water!
Package Includes: Board, Bag, Fin, Leash, 2 Piece Carbon Paddle
Specs:
Size: 12'6" x 30" x 6"
Construction: Epoxy Sandwich
Total Capacity: Up to 250 lbs
Board Weight: 27 lbs
RIDGED DECK LINE
Increases bow strength and helps shed water
DROP DECK
Reduces board volume for added feel
DECK TIE-DOWNS
For securing cargo
11″ FIN
Fibreglass race fin
3K CARBON STANDING ZONE
Strong, stiff and more impact resistent
VACUUM MOLDED
Epoxy sandwich vacuum construction (ESVC)
FIN THUMBSCREW
No screwdriver needed
COFFIN BOARD BAG
Coffin style board bag for protection and easy storage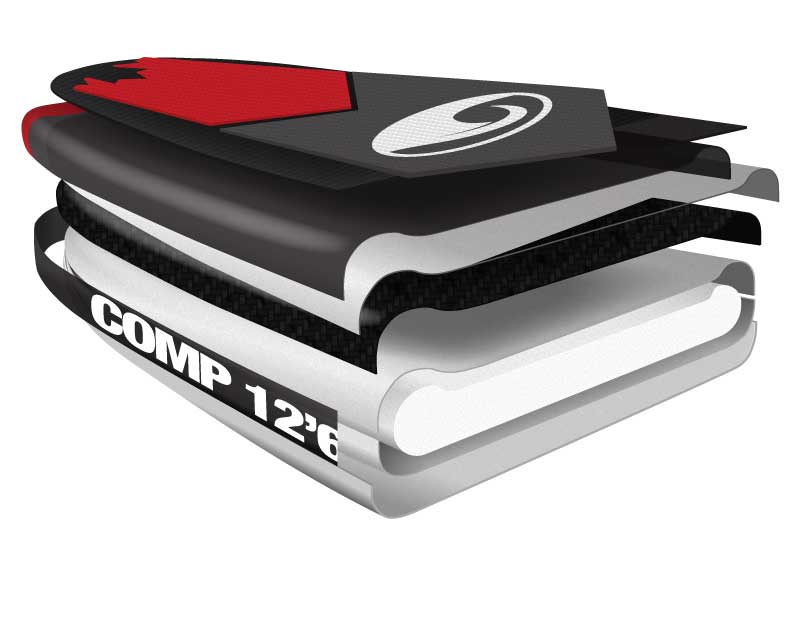 All KAHUNA EPIC SERIES models are hand shaped and use an Epoxy Sandwich Vacuum Construction (ESVC). The foam blank is wrapped with 2 full layers of fiberglass cloth on the top & bottom. A 3rd layer is added to the top of the board and is sandwiched with either fiberglass cloth, bamboo veneer. or 3k Carbon.
For overall strength and durability, the standing zone has an additional top layer of fiberglass cloth wrapping over the deck extending to the underside of the board. The board is then vacuum bagged for perfect consistency producing a strong epoxy sandwich.