Description
BEACH 185 D
The Beach 185 D is the ideal beginner board for light to medium sized riders. It glides well in light winds while maintaining good manoeuvrability. Featuring a foam pad deck for comfort, ideal for both sailing schools and windsurf-enthusiast families.
Beach range boards are the perfect solution for sailing schools looking for tough, strong, up-to-date yet easy-riding equipment. They're manufactured using our ultra-durable Tough-Tec construction technology, featuring an outer polyethylene shell thermoformed over a waterproof polystyrene core. Beach Series boards are supremely stable for beginners, and easy for learning your first serious moves. The deck is covered with comfortable EVA anti-slip grip foam. TAHE Beach series boards come with a tough retractable daggerboard and carry handles.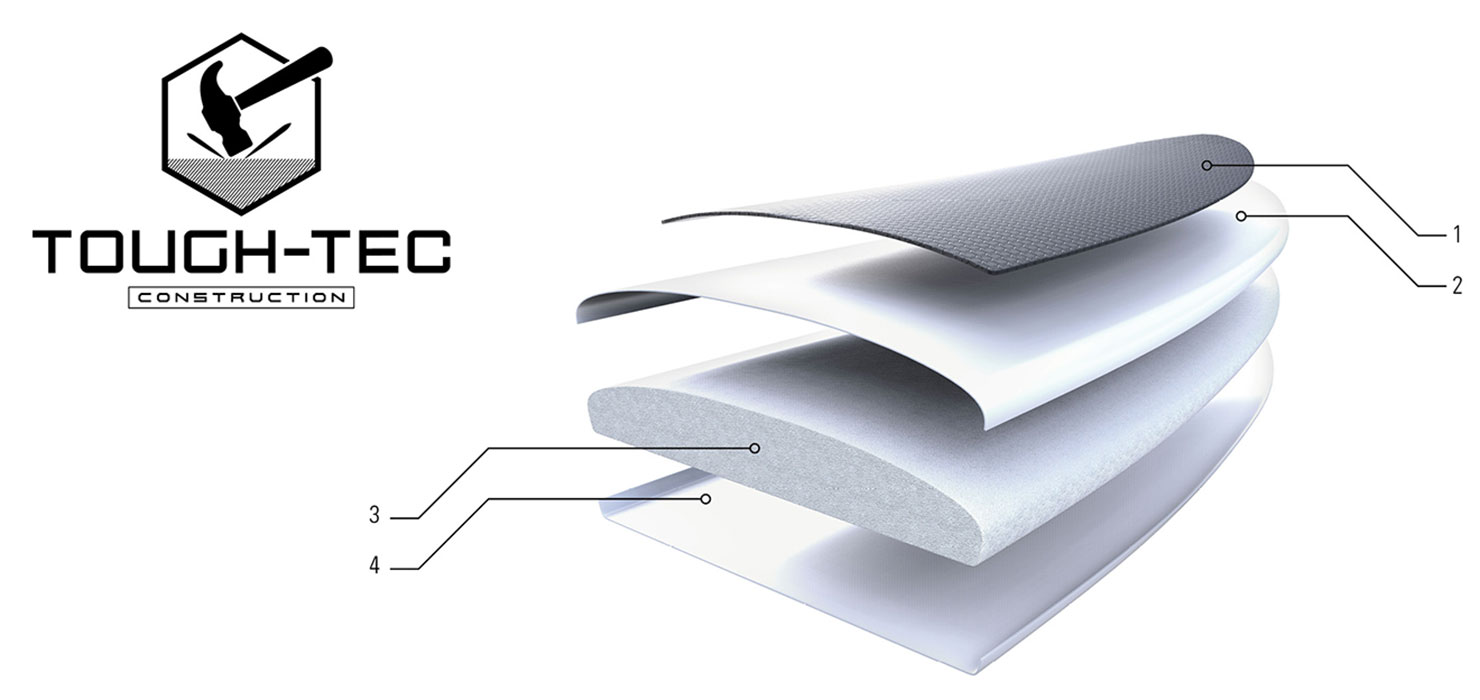 1- Deck pad.
2- Rugged Polyethylene Outer Shell.
3- Molded, Watertight EPS Foam Core.
4- Polyethylene outer shell.
TOUGH-TEC TECHNOLOGY
Thermoforming around a Polystyrene Core
• Molded, Watertight EPS Foam Core for structural integrity
and stiffness.
• Extremely tough outer polyethylene skin for extreme
impact resistance.
• Embossed EVA foam pad for maximum comfort.
• Molded external inserts – no penetrations through outer
shell and maximum strength.
---

EZZY LEGACY SAIL SPECS
Ezzy Legacy
Luff
Luff
Boom
Boom
Suggested
No. of
Base
Suggested
Weights
Size
(sq.m.)

min

max

min

max

Mast

Battens

Extension

Use

Kg

4.2

378

380

149

157

370/27/17

5

10 cm

Wave

2.9 kg

4.7

402

404

157

165

400/25/19

5

4 cm

Wave

3.056 kg

5.2

421

423

165

173

400/25/19

5

23 cm

Wave

3.248 kg

5.5

435

437

172

180

430/25/21

5

7 cm

Freeride/Wave

3.412 kg

5.8

441

443

171

178

430/25/21

5

13 cm

Freeride/Wave

3.436 kg

6.5

452

455

189

198

430/25/21

6

25 cm

Freeride

3.972 kg

7.5

475

478

202

212

460/25/25

6

18 cm

Freeride

4.226 kg
---
---

Legacy XT 60% Carbon Mast Specs Table
| | | | |
| --- | --- | --- | --- |
| Length | MCS | IMCS | KG |
| 340 | 28 | 15 | 1.60 |
| 370 | 27 | 17 | 1.76 |
| 400 | 25 | 19 | 1.91 |
| 430 | 25 | 22 | 2.12 |
| 460 | 25 | 25 | 2.43 |
---
CHINOOK EURO REDUCED DIAMETER ALUMINIUM
---
CHINOOK 1-BOLT MECHANIC MAST BASE PIN
---
UpHaul Line Deluxe
---
Rigging the Legacy Series Sail
Fitting your Footstraps
Setting up the Board