Description
GO 122,133, and 144 share the same amazing shape as our previous Carve lineup, while the iSonic's World title-winning Gravity Control System contributes to the all-around performance in the 2022 GO. Lowering the centre of gravity feels more locked in, stable and ready to accelerate with every gust. A more vertical rig position encourages better control, improves jibing performance by providing more rail pressure and ensures more grip, power and control while carving. The optional Drake Shallow centre fin helps you stay upwind and track in a straight line; great for intermediate conditions and progressing riders.
---
The GO 2022 are available exclusively in the new Starlite construction, a significant step up from the standard construction typically used in this price category: lighter weight, stiffer, tougher against impacts and with a crisper, more high-performance feel on the water. It uses a combination of 0.6mm Australian pine wood and glass fibres to combine premium technology with a quality finish in a value package.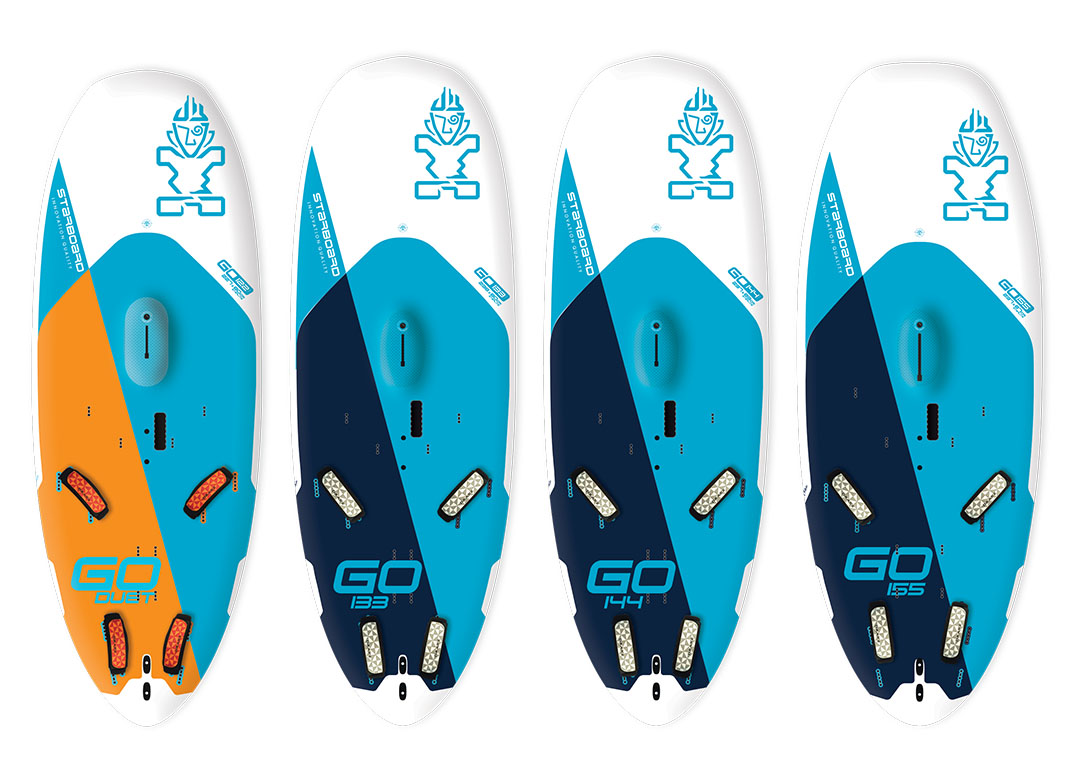 The secret to a whole new level of freeride performance: a 15 cm extended flat section in the rockerline. This gives a longer, more efficient planing surface that helps get you planing, keep planing and accelerate more with every gust.
They feature a centre fin (available separately) that helps you keep upwind and provides extra stability as you learn to windsurf. Remove the centre fin, fit the plug in and you have a full performance freeride board.
| Model | GO Duet 122 | GO 133 | GO 144 | GO 155 | | | |
| --- | --- | --- | --- | --- | --- | --- | --- |
| Technologies | Starlite | Starlite | Starlite | Starlite | | | |
| Volume | 122 l | 133 l | 144 l | 155 l | | | |
| Length | 227 cm | 238 cm | 237 cm | 237 cm | | | |
| Width | 80 cm | 80 cm | 83.5 cm | 87 cm | | | |
| Tail Width | 52 cm | 51.9 cm | 54.4 cm | 57.4 cm | | | |
| Thickness | 11.2 cm | 12 cm | 12.7 cm | 12.7 cm | | | |
| Bottom Shape (Tail To Nose) | Flat V to Double Concave | Flat V to Double Concave | Flat V to Double Concave | Flat V to Double Concave | | | |
| Footstrap Rows | 2 | 3 | 3 | 3 | | | |
| Rear Fins | Drake Freeride Power 42 | Drake Freeride Power 44 | Drake Freeride Power 46 | Drake Freeride Power 48 | | | |
| Center Fin (*not Included with the board) | Drake Shallow 41* | Drake Shallow 41* | Drake Shallow 41* | Drake Shallow 41* | | | |
| Fin Boxes Starlite | Tuttle Box | Tuttle Box | Tuttle Box | Tuttle Box | | | |
| Center Fin Box | Tuttle Box | Tuttle Box | Tuttle Box | Tuttle Box | | | |
| Rear Fin Range | 36 – 44 cm | 40 – 48 cm | 42 – 50 cm | 44 – 52 cm | | | |
| Sail Range | 5.0 – 8.0 m2 | 5.0 – 9.0 m2 | 6.0 – 9.5 m2 | 6.5 – 10.0 m2 | | | |
| Weight | 10.11 kg | 10.53 kg | 11.00 kg | 11.20 kg | | | |
---