CABRINHA 03S MANTIS
Description
If there is one wing that has helped shape and define the sport, it's the Mantis.
Now in its 3rd generation the wing which set the benchmark for stability and rigidity has been further refined to maximize the true potential of wing foiling.
Increased convex dihedral has helped expand the range of the Mantis by providing an increased power to stability ratio, combined with the new Convex Strut the Mantis V3 is the cleanest and most efficient wing to date.    A refined air foil section in the critical area of the wing has helped increase the low end power of the Mantis, further increasing its range of use.
High rigidity LE Inflatable, Low Dihedral with full powerfull profile, Medium AR and convex strut.
FEATURE
NEW: Refined lightweight canopy design for reduced weight and reactive performance
High Tenacity dacron for enhanced dihedral stability and improved handling characteristics
HD large diameter UHMPWE reinforced closing seam construction
Nano Ripstop Canopy, the benchmark in durability, stability and responsiveness
NEW: Sprint 3.0
NEW: Durable TPU bumpers
NEW: Handles – Fully moulded composite widespan handles
Hi-vis, Weather resistant, low elongation TPU window
Load path panel layout
High reactive front handle
High rigidity centre section stitching design
Lightweight TPU bladders
NEW: fine tuned size progressive wing tip twist for forgiving sheeting
NEW: Increased convex dihedral for power-to-stability ratio
NEW: refined airfoil centre section for low end power
NEW: Convex strut for added rigidity
NEW: Dump valve for fast deflate
Size
2m
2.5m
3m
3.5m
4m
4.5m
5m
6m
7m
Wind Range in Knots (75kg rider)
25-45
20-40
17-36
16-34
15-30
13-27
11-26
7-20
6-18
Weight of Wing (kg) Without Bag

(Tolerances may vary)

1.73
1.93
2.11
2.33
2.52
2.75
2.94
3.27
3.61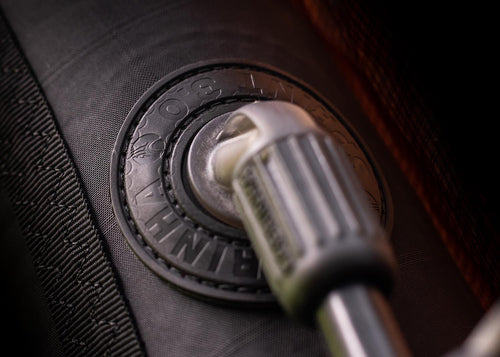 2 X SPRINT 3.0
The new Sprint 3.0 inflation system increases air flow from leading edge to the strut. The new straight and angled valves allow for no kinking of the inflation tube. It's secure fit design also allows for easy maintenance. All Cabrinha wings sport 2 x Sprint 3.0 to aid in faster inflate and deflate times.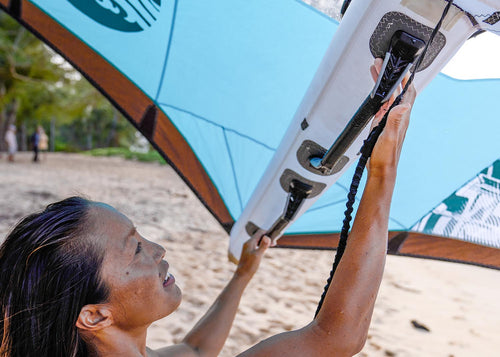 COMPOSITE WIDESPAN ANTI TWIST HANDLES
Multi material composite wide span handles provide the rigidity you need for control, but with the benefit of soft to touch materials in the areas you need it.     The widespan design allows for micro adjustment to fine tune the wings performance, as well as to aid in transitions and maneuvers.
PURE IMPULSE FRONT HANDLE
Infused with the technology of the Widespan Handles, the Pure Impulse front handle provides a direct location for carrying, maneuvering and also for controlling the wing. On a wave the Pure Impulse Handle allows you to move the wing where you want it, when you want it, allowing you to focus on the wave ahead.
---
S'il y a une aile qui a contribué à façonner et à définir le sport, c'est bien la Mantis.
Maintenant dans sa troisième génération, l'aile qui a établi la référence en matière de stabilité et de rigidité a été encore affinée pour maximiser le véritable potentiel de l'aile à foils.
L'augmentation du dièdre convexe a permis d'étendre le rayon d'action de la Mantis en offrant un meilleur rapport puissance/stabilité. Combinée au nouveau Convex Strut, la Mantis V3 est l'aile la plus propre et la plus efficace à ce jour. Une section de foils affinée dans la zone critique de l'aile a permis d'augmenter la puissance à bas régime de la Mantis, élargissant encore son champ d'utilisation.
Profil très rigide, faible dièdre avec un profil très puissant, AR moyen et suspente convexe.
CARACTÉRISTIQUES
NOUVEAU : Conception raffinée de la voilure légère pour un poids réduit et des performances réactives.
Dacron haute ténacité pour une meilleure stabilité du dièdre et une meilleure maniabilité.
Coutures de fermeture renforcées en UHMPWE HD de grand diamètre
Nano Ripstop Canopy, la référence en matière de durabilité, de stabilité et de réactivité.
NOUVEAU : Sprint 3.0
NOUVEAU : Pare-chocs TPU durables
NOUVEAU : Poignées – Poignées larges en composite entièrement moulées
Fenêtre TPU haute visibilité, résistante aux intempéries et à faible élongation
Disposition du panneau de passage de charge
Poignée avant très réactive
Conception des coutures de la section centrale à haute rigidité
Vessies légères en TPU
NOUVEAU : twist progressif en bout d'aile pour une meilleure tolérance à l'atterrissage.
NOUVEAU : dièdre convexe augmenté pour un meilleur rapport puissance/stabilité
NOUVEAU : section centrale affinée pour la puissance à bas régime
NOUVEAU : jambe de force convexe pour plus de rigidité
NOUVEAU : valve de décharge pour un dégonflage rapide